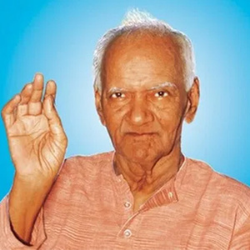 VEDMURTHY TAPONISHTHA PT.
SRIRAM SHARMA ACHARYA
A Visionary of Bright Future
In the long, slow, tedious and meandering march of evolution of human consciousness, culture and civilization, over the millennia, it has been only on rare turning points that Avatar like multi-faceted geniuses with superhuman attributes have appeared on the human scene to raise human consciousness to a higher nobler plane. The Saint-Scholar-Philosopher Pandit Shriram Sharma Acharya, undoubtedly, belongs to this small rare group of divine vibhutis. Born on September 20, 1911 in a village Anwalkheda in Agra District, U.P., India, Acharyashri's whole life was devoted to Bhaghirath-like tapasya in clearing the way for the emergence of a new Era of universal peace, harmony and goodwill that could be linked with an era of descent of Heavens on the Earth.
Acharyashri (known as Gurudev by the disciples) scrupulously carried out the biddings of his divine Guru, a great Himalayan Yogi. When he was only fifteen years of age he endeavoured 24 Mahapurushcharans of Gayatri Maha-mantra; took part in the non-violent struggle for India's independence as a volunteer; went to jail a number of times as part of the freedom struggle, and embarked upon the task of social and moral upliftment through spiritual means with the blessings of Mahatma Gandhi.
A sage, a visionary, a social reformer, Acharyashri propounded 100 points Yug Nirman Yojna for social, intellectual and spiritual evolution. He lived a simple, disciplined life full of devout austerity, visited the Himalayas several times and attained spiritual eminence and foresight.
He translated the entire Vedic Vangmaya in lucid Hindi with eloquent comprehensive introductions and accomplished a feat of writing more than 2400 enlightening books in Hindi on all aspects of life. His writings encompass far-reaching, sagacious and feasible solutions to the innumerable problems of today. The Gayatri Pariwar fraternity, Shantikunj Ashram (the headquarters of Gayatri Pariwar), an academy for moral and spiritual awakening; Brahmavarchas Research Institute which strives to synthesize science with spirituality, Akhand Jyoti Sansthan, Mathura, Gayatri Tapobhumi, Mathura and thousands of social reform and sadhana centres (Shakti Peeths) around the globe are other grand contributions of Yugrishi Pandit Shriram Sharma Acharya to the modern world.
MATA BHAGWATI DEVI SHARMA
When Gurudev took Mahasamadhi on June 02, 1990, Gayatri Jayanti day, Mataji took over all the responsibilities of the mission and carried them over with great courage. In October 1990, under Mataji's guidance, Grand Shraddhanjali Samaroh, a program to pay homage to Gurudev, was organized . Over 15,00,000 devotees from all over the world participated in it, and resolved to carry-on the works of Gurudev, for dissemination of philosophy of Gayatri and Yagna.In 1992, on Gayatri Jayanti Day, Mataji disclosed about Gurudev's message from subtle and astral realms for the spread of Dev- Sanskriti (divine Indian culture or religious culture) all over the world for which series of Grand Ashwamedha Yagyas were to be performed. The series of Ashwamedha Yagnas started from Jaipur in Nov.1992. Till now, twenty-seven such grand Ashwamedha Yagnas have been celebrated in INDIA and abroads, besides the grand Anwalkheda (birthplace of Acharyaji near Agra, city of Taj) Pratham Poornahuti Samaroh in 1995.